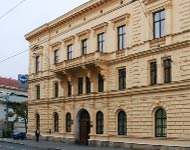 In 1992 Chirana Brno became a joint stock company by entering of majority shareholders, firms MMM from Munich (Germany) and M.Schaerer AG from Moosseedorf (Swiss). The firm obtained and developed modern know-how, new product assortment and access to advanced European market and built up a worldwide trade network. There followed a dynamic development of the company with the name Chirana BMT Brno a.s. and later BMT a.s. At the end of the year 1995 the firm Schaerer conveyed, MMM took over the packet of shares from them and became the only major shareholder. Our firm became the member of the MMM Group. There followed a successful development that enabled to achieve the present important position on the worldwide market within a very short time.
1996

the close cooperation with MMM was started

1997

the process of integration into MMM Group was started

1998

certificates EN ISO 9001 and EN 46001

2000

certification of the company according to MDD 93/42/EEC MDD 93/42/EEC

2001

certification of the company according to ASME-Code

2002

the quality system certification of manufacture of pressure vessels and steam boilers (steam generators) according to AQSIQ making possible the export to China

2003

on the market there was introduced a new line of small steam sterilizers STERIDENT, STERIMAT, STERIMAT PLUS, STERILAB STERIMAT PLUS, STERILAB

2004

re-certification of a complete quality system management according to new standards EN ISO 9001:2001 and EN ISO 13485:2003

2005

foundation of a subsidiary company BMT Iberia in Spain. Placed a new line of large steam sterilizers on the market.

2006

on the market there was introduced a new volume model (22 litres) of laboratory driers and incubators; the subsidiaryPrometco (USA) was founded

2007

a new generation of the big vapour STERIVAP sterilizer with a new design and unique construction was put on the market

2009

global recession – sales network development and sales success in the markets of North Africa, Saudi Arabia and China

2010

obtaining the licence for export of medical engineering to Canada

2011

launching a brand new line of fully innovated devices Unisteri HP, already second prolongation of authorisation for export of pressure vessels to China

2012

extension the products portfolio in washing and disinfection devices of the UNICLEAN SL line

2013

extension of the products portfolio in hot-air sterilizer with de-pyrogenisation for pharmacy VENTICELL IL, the top line of thermal engineering devices - EVO line – put into the market

2014

environmental management (EMS) certification according to the international standard ISO 14001

2015

New steam sterilizers STERIVAP SL line launched, which are unique due to their slim design

2016

CLIMACELL 707 EVO was developed with a special treatment of colour, light LED sources for green plants growing, based on co-operation with Mendel University in Brno
production of the first laboratory and pharmaceutical device VENTICELL IL with chamber volume of 3 900 litres, designed for de-pyrogenisation of materials in medicaments and vaccines production

2017

10 July 2017 - BMT Medical technology s.r.o. celebrates 25 years of successful co-operation with MMM Group
We open the markets in Central America and Caribbean countries – BMT is the leader in the market in El Salvador, there has been performed an important project of supply of dozens of medical devices

2018

New heating technology line launched on 1. 1. 2018 – the ECO line, bringing more than 70 improvements in the field of hardware and software compared to successful standard and comfortable lines

2019

US Patent No. 10184282 to a door closure of heat technology units
More than 80 years' experience with production of hot air and steam sterilizers and X-ray units
More than 40 years' exporting experience
Products and satisfied customers in more than 100 countries throughout the world
Worldwide sale and service network
Dynamic growth of production, sale and product assortment
Subsidiaries in Ukraine, Germany, Russia, USA, Spain and Slovakia
Member of the international MMM Group with seat in Munich
Active marketing – due to the obtained information and specification of the customers' requirements in the inland and abroad we optimize the qualities of our devices in order to offer the maximum use value to our customers.
Our development team, using the latest CAD systems for design, is able not only to respond flexibly on the changes of market, customers' requirements and device properties but also to carry out adaptation of devices according to customers' wishes.
Modern production management, selection of reliable suppliers and components from the whole world are the guaranty of quality and short terms of delivery.
The dynamically developing sphere of customer services is able to satisfy Your needs any time and anywhere throughout the world.
The obtained certificates, technical parameters and quality of products enable the successful sale in our country, Europe, Asia, Africa, South America, in EU countries, inthe USA and in China.