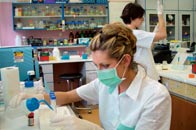 Infections are a distant threat to our health. Healthy body can fight off smaller infectious diseases well. For a weakened man, however, each infection is a threat of great stress for an organism. To prevent such threat, our company has been developing and manufacturing technology which helps to protect the human health.
Personnel, physicians and research workers in laboratories must have a guarantee they are not exposed to a high risk of an infection danger.
Sterile conditions must be observed at work with pathogenic substances in laboratories, scientific institutions and pharmaceutical companies and no dangerous leakage to the air can occur. Our company helps to protect the human health by offering comprehensive systems in the field of health service and laboratory technology.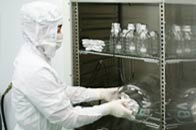 Sterilization technology requiring special modification of the basic equipment is intended for sterilization of solid, porous and plastic materials, processing and subsequent sterilization of agars (cultivation media), sterilization of solutions in open and closed bottles, disinfection of materials, decontamination of laboratory waste in laboratories, scientific institutions and in food, chemical and pharmaceutical industry.
When it comes to use in research, development, manufacturing and quality, we offer high-tech systems for cultivation, tempering and incubation. We offer many improvements in the field of distribution and period of temperature rise, designs and safety.
The sectional principle that applies to the construction of the devices allows us to offer you a wide range of products with unique features – with the use of various operating media, in several volume sizes and with safety operating procedures.
What makes us different?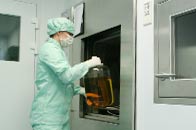 Our company not only sells exactly defined types of units, but we also offer our customers the possibility of creating the tailor-made unit that they need and together with the unit we also offer our business services, including advisory services in the field. Modularity based on the sectional principle is typical for our products and allows for a great flexibility in the realization of individual customer solutions, which comply with specific terms and conditions in the given area and country.
Do you prefer your own solutions?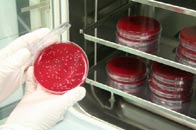 Lately, we have taken many specific steps on our road to become a solution provider. Only the ability to understand our customers' needs and the relevant processes in their work using our technology allows us to create and offer tailor-made solutions.
Solutions are based on the comprehensive satisfaction of individual customers' needs through professional services.
We maintain a day-to-day dialogue between our customers and our experts on the one hand and our developers on the other hand.
A functional relation between the design, equipping and conception of units and the operating procedure, man and the environment, forms the basis of our orientation on the market.
What do we offer to you?
Our company offers you more than just high-tech technology. Through open dialog we offer to help you find solutions that are clearly subordinated to your requirements. Put simply, we go further.
Our comprehensive approach will make your life easier and will bring you real benefits – productivity, high quality, relating services and financial efficiency.
Read more about the individual types of products and comprehensive services on offer in the following sub-sections!