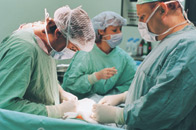 Infections represent a remote threat to our health. A healthy body can cope well with a minor infectious disease but for a weak person each infection poses a threat of a big burden to his organism. In order to avoid these threats, our company develops and manufactures technology that helps to protect our health.
Patients, medical personnel and doctors in health care centers must be sure that the material and instruments used are sterile and that they are not exposed to a high risk of infection.
The same applies to laboratories, where sterile conditions must be observed when working with pathogenic substances and dangerous leaks into the atmosphere may not occur. Our company supports health protection by offering comprehensive systems in the fields of health service and laboratory technology.
These vital instruments meet the newest high technical and legislative requirements in hospitals and doctors' surgeries, in veterinary and micro-biological laboratories, in science and biological institutions, in laundries and services. In what concerns cleaning, disinfection and sterilization, we are a partner you can rely on. If you want to successfully protect your facility against infections, we stand on the starting line with you.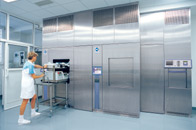 Our technology respects the specific requirements placed on various types of sterilization media – steam, chemistry and hot air. The sizes of sterilization chambers are selected in such a way that sterilization units ensure the operation of health facilities, ranging from an ambulance to large hospitals, that use the technology of central sterilization.
When it comes to use in research, development, manufacturing and quality, we offer high-tech systems for cultivation, tempering and incubation. We offer many improvements in the field of the distribution and the period of the rise of temperatures, designs and safety. The sectional principle that applies to the design of laboratory technology allows us to offer you a wide range of products with unique features – with two types of heat transfer, with the use of various operating media (CO2, N2, O2), in several volume sizes and with safety operating procedures.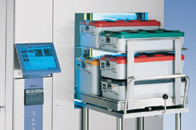 Sterilization technology, which requires specific basic equipment, is designed for the sterilization of solid, porous and plastic materials, processing and consequent sterilization of agars (cultivation soil), sterilization of solutions in open and closed bottles, disinfection of materials, decontamination of laboratory waste in laboratories, science institutes, in the food processing, chemical and pharmaceutical industry.
What makes us different?

Our company not only sells exactly defined types of units, but we also offer our customers the possibility of creating the tailor-made unit that they need and together with the unit we also offer our business services, including advisory services in the field. Modularity based on the sectional principle is typical for our products and allows for a great flexibility in the realization of individual customer solutions, which comply with specific terms and conditions in the given area and country.
Do you prefer your own solutions?

Lately, we have taken many specific steps on our road to become a solution provider. Only the ability to understand our customers' needs and the relevant processes in their work using our technology allows us to create and offer tailor-made solutions.
Solutions are based on the comprehensive satisfaction of individual customers' needs through professional services.
We maintain a day-to-day dialogue between our customers and our experts on the one hand and our developers on the other hand.
A functional relation between the design, equipping and conception of units and the operating procedure, man and the environment, forms the basis of our orientation on the market.
What do we offer you?

Our company offers you more than just high-tech technology. Through open dialog we offer to help you find solutions that are clearly subordinated to your requirements. Put simply, we go further. Our comprehensive approach will make your life easier and will bring you real benefits – productivity, high quality, relating services and financial efficiency.
Read more about the individual types of products and comprehensive services on offer in the following sub-sections!