Compare
STERILAB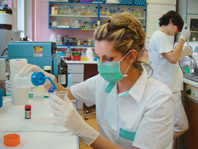 STERILAB, a steam sterilizer with a chamber volume of 25 liters and gravitation deaeration of the chamber (without an air pump), represents a completely new generation of small steam sterilizers for laboratories.
The unit has been designed for the sterilization of solutions in open and closed bottles, unwrapped solid non-porous items made out of metal and glass; for the sterilization and thermal preparation of laboratory matters – agars, solutions, and the like. The unit is standardly fitted with a flexible PT 100 sensor; the unit can also be optionally fitted with forced cooling of solutions after sterilization. A wide range of software and the possibility of individual program modifications allows for extensive application of the unit. Thanks to how small they are, a big sterilization chamber, their top quality and wide range of use, STERILAB units are suitable for use at all those workplaces, where top quality, speed, reliability and the highest level of sterilization safety are required.




Technical data
Sterilization chamber dimensions
diameter × depth

269/440 mm
External dimensions of the sterilizer
width × height × depth

502 × 472 × 750 mm
Changes in the design and make reserved.
The values may differ depending on specific charge and media parameters.