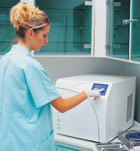 STERIMAT, a steam sterilizer with a chamber volume of 20 liters, represents a completely new generation of small steam sterilizers that comply, without exception, with the requirements of standards (EN 13060 for Class B) and operating staff. STERIMAT sterilizers are suitable for the sterilization of all instruments, materials, textile, rubber and plastics that are meant to be sterilized by steam when it comes to health services, veterinary clinics and laboratories. Thanks to how small they are, their top quality and wide range of use, STERIMAT units are suitable for use especially in the field of dentistry, where top quality, speed, reliability and the highest level of sterilization safety are required.
A two microprocessor control system (Master-Slave) and double pressure and heat sensors make up a separate sterilization cycle control and record system and it thereby secures the highest possible safety, accurate regulation and short batch times.
Small steam sterilizer
Quick, powerful, smart and exceptional
Saves space and consumption of media
Fractional multiple evacuation
Automatic door control
Touch display offers top comfort control of the unit and provides comprehensive information about each phase of the on-going process
A graphic printer or computer can be connected to the unit to print, assess and archive a detailed report on each sterilization cycle (RS 232 interface)
Short delivery terms
Chamber volume: 20 liters
Temperature range: From 105°C to 134°C
Built-in separate full-scope steam generator
Powerful air pump – perfect drying
two microprocessor control system (Master-Slave)
Touch display for comfort control
10 user programs
Separate control and cycle registration system
Autonomous design or feeding by de-mineralized water from water works firmly connected to a water distribution network
Separate distilled and used water tanks
Enables testing and validation according to EN ISO 17665-1:06
The pressure chamber, door panel and steam generator are made out of first-rate stainless steel (ČSN 17 347, DIN 1.4571, AISI 316 Ti). In order to save energy and minimize heat radiation, the chamber is perfectly insulated with ecological insulating material. Sensors, valves, the powerful air pump and other important design elements are manufactured by leading world producers. The unit is fitted with a pump to fill the distilled water supply tank and it does not need to be connected to water discharge piping.
Right of change of construction and design reserved.
Compact dimensions and low weight
Optimal effective output
Quick steam generation system
Programs with fractional pre-vacuum and multiphase drying with sterilization exposure time ranging from 4 to 60 minutes
Several sterilization programs that can be selected depending on the type of sterilized material
Three special testing programs
The switching-on and starting of the unit program can be time-delayed
Once a cycle has finished – automatic 1 hour tempered chamber
Stand-by function – automatic pre-heating phase, keeps the temperature in the sterilization chamber at least 80°C for 1 hour after the unit has been switched on and after the cycle has finished.
Sterilization chamber with an electrically heated jacket and a separate steam generator made out of first-rate stainless steel (DIN 1.4571, AISI 316Ti)
Automatic door closure
Touch display (graphic LCD)
Heat is removed away from the sterilizer with the help of a powerful cooling system that does not need to be connected to a water source
Automatic microprocessor control through two microprocessors
Vacuum drying multiple phase system with forced ventilation
Built-in separate tanks (6.5 liters) for demi-water and waste water big enough for at least 5 sterilization cycles with maximum possible load
Maximum / minimum water level indication
Batch counter
RS 232 interface; an external printer can be connected for documentation of sterilization processes; Printer Archive communication data for data storage
The configuration of sterilization program parameters can be changed with software
two microprocessor control system (Master-Slave) of sterilization
Mechanical and electric door blocking system with micro-switches
if the program is turned off, the system will automatically go into safe mode
Warning and error reporting is controlled by a microprocessor
Anti-bacterial filter safely secures the quality of chamber aeration after the under-pressure cooling phase
Safety valve protection against surpassing maximum operation over-pressure
Thermal fuse protection against non-permitted overheating of the electrical heating of the jacket of the sterilization chamber
Thermal fuse protection against non-permitted operation of the steam generator without water
The unit complies with the technical and legislative regulations of the Czech Republic and the EU – Council Directive 93/42/EEC, the EN 13060 standard for small steam sterilizers, and others.
P1 Unwrapped instruments – 134°C/4 minutes
P2 Wrapped instruments, wrapped materials – 134°C/7 minutes
P3 Textile, containers, wrapped material with intensive final drying – 134°C/7 minutes
P4 Rubber, cavities – wrapped products made out of glass, rubber and plastics – 121°C/20 minutes
P5 Wrapped quick – 134°C/7 minutes (maximum load 0.5 kg)
P6 Cavities quick – 121°C/20 minutes (maximum load 0.5 kg)
P7 Special – special program with parameters according to the customer's wishes, such as SOLUTIONS – a flexible PT 100 sensor can be built-in
P8, P9 Bowie & Dick/HELIX test – steam penetration test – 134°C/3.5 minutes
P10 Vacuum test – chamber air-tightness test – length of the equalizing phase 5 minutes, testing time 10 minutes
P 11 Service – service program for easy check-up and maintenance
Note: The temperature and time values of sterilization programs are given without evacuation and drying values
This product was awarded the prestigious Zlatá Mefa 2002 prize.
It was nominated for the Excellent Product Award in 2003.
It was awarded the Grand Prix Pragomedica prize in 2005.