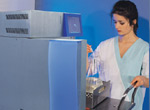 The newest modular line of steam sterilizers UNISTERI®HP IL is suitable for the field of microbiology, molecular biology, bio technology and waste de-contamination. Line of sterilizers with chamber volume of 73, 160 and 254 litres. The steam sterilizer is designed for sterilization of solid objects without contents of liquids, for sterilization of liquids – solutions, cultivation and boiling soils, suspensions and emulsions, liquid medicament forms; steam de-contamination. Steam sterilizer UNISTERI®HP IL – safe, fast, ergonomic design, easily controllable, possibility of individual adjustments and multi-purpose use. Top quality production, modern electronics and high quality materials of the device UNISTERI®HP IL are as natural as user features or exceptional level of safety and reliability.

UNISTERI®HP IL is the representative of the new generation of "medium" steam sterilizers meeting basic technical and legislative EU regulations without any exceptions. The device concept is based on requirements of European regulations No. 2006/95/EC, 2004/108/EC and 97/23/EC and related standards, mainly ČSN EN 285+A2. The device is also adjusted to individual needs of individual work sites. The pressure chamber and steam generator are designed and manufactured within certified quality system according to the European regulation for pressure devices No. 97/23/EC or – in case of individual requirements – according to ASME Code standards (for the USA and Canada) or according to licence regulations AQCIQ (for China). The device construction meets requirements of GMP and GLP. The device corresponds with recent requirements in health care industry, in labs, in pharmaceutical, chemical and food processing industry.
touch-screen 8,4" control panel with maximal operation and service comfort
new, unique, revolving door hanging with user-friendly servicing, automatic system of door locking and sealing
movable door sealing
low-input gas generator for lower operation costs (from 7,5 kW)
powerful suction pump for short times of batches, fast and exact course of cycles
two-processor control by two independent "Master-Slave" cycles for fast, exact and safe course of cycles
special method of control of continuous steam filling into the steam sterilizer chamber
the device is made of high-quality stainless steel for long service life and reliability.
single-door and double-door (interlaying) version with possibility of building into the stainless steel wall
optional steam source – own, external, combined
optional roughness of inner surface of the sterilization chamber
system for manual insertion of materials and system of transport and charging carriages
wide range of optional program equipment
various possibilities of batch documentation processing
wide range of optional equipment for minimization of operation costs
possibility of specific additives selection (e.g. possibility of chamber equipment with a flexible sensor PT 100 for safe and precise control of cycles while working with microbiological cultures and solutions, possibility of building-in the device for additional cooling of condensate, possibility of adjustment for decontamination of materials, gastight version "Bio-Seal", pressure manometers, wide range of individual adjustments of programs, …)
wide spectrum of services (incl. ON-LINE internet diagnostics, various types of tests, validation, etc.)
the highest possible operation safety, double system of sensors for process information collection and assessment and for their continuous comparison and assessment
two built-in microprocessor control systems (Master-Slave) for independent assessment, control and documentation of operation cycles
any established variation exceeding allowed limits induces an error message
unique error protocol for exact and fast diagnostics of errors
the basic program equipment includes up to 20 standard programs
easy realization of individual adjustments of programs
unlimited number of programs and their easy changes using chip cards
easy and intuitive access for service allows a technician to comfortably set all and any calibrations and configurations and to perform fast diagnostics of the device
pressure chamber, steam-heated via heating shell, made of high quality stainless steel DIN 1.4571 (AISI 316 Ti) and DIN 1.4404 (AISI 316 L)
special method of control of continuous steam filling into the steam sterilizer chamber
down bottom of the sterilization chamber for perfect drying
sterilization chamber with ground surface with roughness of Ra 1,25 μm (Ra 50 μinch); optional polishing with roughness Ra 0,8 μm (Ra 32 μinch) or polishing to mirror shine with surface roughness Ra 0,125 μm (Ra 5 μinch)
thanks to high-quality insulation materials Rockwool used (no chlorides), equipped with an Al foil, there are reduced the radiated heat losses and requirements towards air-conditioning
as a standard, all the sterilization chambers are equipped for validation with two easily accessible inlet necks
new, unique, horizontally revolving, automatically lockable door fixed in four points
if required, we perform chamber passivation (staining)
the steam generator and the heating bodies are made of high quality stainless steel DIN 1.4571 (AISI 316 Ti)
high quality insulation Rockwool with AL foil – significant reduction of heat losses
the water intake function and the steam generator output are controlled and checked by a two-processor control system Master-Slave, with unique construction, with thermal degasification of feeding demi-water, for minimization of non-condensable gases (optional equipment) and with automatic desalting guarantee short times of sterilization cycles and permanently high steam quality.
user friendly, with intuitive control
two built-in PLC microprocessor control systems (Master-Slave) with own sensors for independent assessment, control and documentation of operation cycles
ergonomic position of touch control panel
touch screen technology 8,4" provides well-organised and simple servicing on charging side
on discharging side of the device (in case of two-door version): LED display with possibility of monitoring of current work phase, pressure in sterilization chamber and time left by the end of the cycle
"Emergency stop" function integrated to the control panel allows for the device to be put into standby status if needed
possibility of language selection for communication with the device
well organised digital displaying of steam pressure in sterilization chamber shell and in steam generator, pressure and temperature in sterilization chamber (reference bottle)
clock – an indicator of remaining time of the program and real time indicator
error protocol with recording of all and any parameters at the moment of a fault for the possibility of fast or remote service
visual and acoustic signalling of statuses and processes
chip cards system (optional equipment)
possibility of building-in a printer for sterilization processes documentation (optional equipment)
The UNISTERI®HP IL steam sterilizer can be used for sterilization of solid, porous and plastic materials, processing and subsequent sterilization of agars (substrates), sterilization of solutions in open and closed bottles, disinfection of materials, waste decontamination, etc.
The instrument enables the installation of up to the 20 fixed programmes in the basic version, according to the specific customer needs.
Standard programmes
"Universal" 134°C/ 7 min, with following drying
"Universal Containers" 134°C/ 7 min, with intensive drying
"Rubber" 121°C/ 20 min, with following drying
"Instruments Quickly" 134°C/ 4 min, with following short drying, for non packed instruments for immediately following use
Testing programmes
"Bowie&Dick Test" – Steam penetration test – 134°C/ 3,5 min
"Vacuum Test" – Chamber air tightness test – compensatory phase length is 5 min, test length is 10 min
The installed programmes could be later, anytime, modified by a chip card system directly at the user. On the chip cards, the programmes developed and tested by producer are saved, based on the order.
Special laboratory software
enables to the operating personnel to make individual modifications of already programmed sterilization programmes.

The user can modify:

sterilisation temperature ± 3°C from the set values, the upper limit is 135°C
sterilisation time within 0–600 min
drying phase length 0–60 min
number of drying phases within 0–10 phases
evacuation number within 0–10 phases
in case of solution programmes, the cooling temperature, the upper limit is 120°C
in case of programmes controlled by Fo parameter, the Fo parameter within 0–600

We also offer pecial UNICONFIG software enabling to modify all values of the sterilisation cycle (evacuation, vacuum depth, exposition, drying) and to set the values of the sterilisation cycle temperature and time. (The verification by producer is necessary.)

Programmes without necessity of using of PT 100 sensor
Programmes with special charge testing
Programmes with possibility of use of the movable PT 100 sensor
Programmes with bacteriological filter on the sterilisation chamber input/output and with continuous condensate sterilisation (suitable for • BSL 3, BSL 4 operations)
Programms with wide scale of following specified optional accessories

It is possible to arrange well-organized documentation of operation cycles:

Independent documentation of operation cycles with recording of pressure and temperature and with the possibility of saving 10 recent protocols in the sterilizer memory (optionally up to dozens of thousands – SDHC card)
By connection to PC and by saving protocols in the computer memory using the "Printer Archive" software
The Audit Trail function allows recording, displaying and archiving of important events.
By connection of the sterilizer to computer network (LAN) together with software application Ecosoft and DP 3.5
By built-in printer with the possibility of selection of one of four graphic outlets.

The PLC automatics is equipped with extensive software for easy control, maintenance and testing (interactive schemes of tube connection, testing programs allowing testing of safety elements of the device, calibration settings, etc). We offer ON-LINE internet diagnostics and monitoring of the sterilization device, providing fast and direct communication with engineering and providing fluent and trouble-free operation of the construction site. All these features guarantee low operation costs and long service life of the device. The device allows detailed planning of service tasks with consequent warning on the display or on pharmacy statement.

The low consumption factor affects the models of the future. More and more demanding legislative requirements putting stress on launching safe products in the market and permanently increasing price of input media represent pressure on sterilization engineering operation costs increase. That is why it is the hit and advantage of current era to provide saving and comfortably equipped sterilizers they represent the very new trend in health care industry operations.

Steam sterilizer UNISTERI®HP IL can be equipped with a system for cooling water saving. Its application leads to water consumption decrease in approximately 25%. In case of strict requirements towards low operation costs of sterilizers in health care institutions, field hospitals or regions with potable water absence, the principle may be insufficient. That is why we offer the version with autonomous operation, completely eliminating the necessity of the device connection to a water source. In this way, there are no price costs on cooling water. The sterilizer in this version is also equipped with a cooling aggregate placed in the rear part of the device. The operation of the device is fully controlled by the automatics of the sterilizer and it requires no staffing. It is sufficient for the steam sterilizer operation to have electric power and a source of demi-water for built-in steam generator. Steam generator feeding with demi-water may be arranged by fixed connection to a water treatment plant or in an autonomous way, using a tank with the volume of approximately 25 litres. The device automatics controls demi-water adding from the tank.

Thanks to a unique construction solution, we succeeded to reduce the steam generator intake in approximately 50%.

The comfort and safety of staff´s work with the device is automatically arranged by a locking mechanism of the door, including sealing. The two-processor automatic controls the course and multiple check of processes.

The construction of the pressure vessel including the door and selection of high-quality of internal surfaces allow perfect, fast and comfortable cleaning of all and any parts of the sterilization space.

One of the economic product line elements, saving your time. The function of "Automatic Morning Switch-On " is able to start the device in pre-set time and to perform pre-heating and Vacuum test without the staff presence. In this way, routine testing programs can be performed in a more efficient way.

Use of the new Ecosoft software application which, together with the connection of the device on the sterilisation work site to the computer network (LAN), allows the documentation of all sterilisation processes and independent data storage, reports printing on an A4 paper, and connection of a bar code reader.

This is a set of software and hardware sterilizer modifications that give the possibility of a single and mutual regulation of the integrated steam generators operation to secure the energy peaks watching and communication with the central technical office, or the possibility to limit the electrical distribution system sizing on the installation place.

The Air Detector is a device which monitors and detects continuously the air and/or non-condensable gasses penetration and presence in the sterilisation chamber during each programme of packed materials sterilisation. The equipment of the device with this apparatus represents a higher guarantee of the sterilisation safety than the so far performed routine checks by testing programmes (Vacuum Test and Bowie&Dick Test) done once a day only before the commencement of the common operation.

In addition to the device supplies, we offer other range of services related to the development of central and operating room sterilizations:

counselling and project drawing including the logistics and capacity calculation;
turnkey device deliveries including the individual information systems
Validation is one of the conditions for arrangement of sterilization process quality. For this purpose, the steam sterilizer UNISTERI®HP IL is offered with the service "Validation", allowing proving of the sterilization processes competence according to the EN ISO 17665-1 standard; the technical measuring is performed by our own testing laboratory.

Service and support of users are fully arranged by a worldwide network of contractual organisations of the company BMT Medical Technology s.r.o. We have an extensive network of brand service work sites connected to HOT-LINE service providing fast response to clients´ questions and requirements. So as to arrange user comfort and fast and high-quality service intervention we developed a special auto-diagnostic program. We offer ON-LINE internet diagnostics and monitoring of the sterilization device (RMS), providing fast and direct communication with the instrumentation and it arranges fluent and trouble-free operation of a work site. All these features guarantee low operation costs and long service life of the device.

The device meets all and any current environmental requirements. It represents no burden for the work and life environment. A powerful suction pump with built-in device for feeding water saving saves approximately 15% of operation costs. The unique construction of the steam generator with automatic desalting arranges permanently high quality of steam.

High quality materials guaranteeing long service life of the device are used for its manufacture. Optionally, the device can be equipped with an element for additional cooling of waste water, allowing its drainage temperature setting. The device does not produce any harmful waste. Environment – friendly methods are used for its manufacture in the workshop. All the main parts of the device as well as the packages are recyclable.

The device consists of 95% of steel, 4% of other materials, 1% electro material and plastics. Environment-friendly liquidation to be performed after dismantling by an authorised person in compliance with EU regulations, corresponding with WEEE directive (Waste Electric and Electronic Equipment).