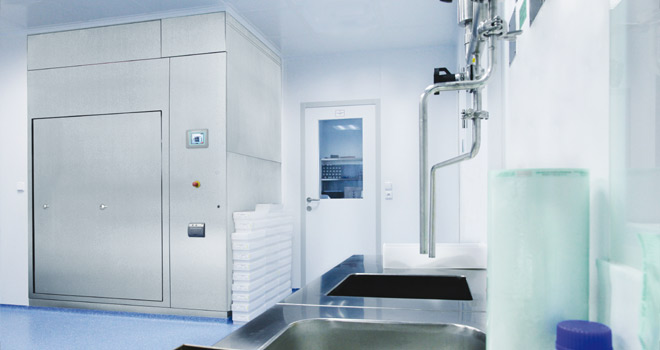 A faktory acceptance test (FAT) is taken for granted; a site acceptance test (SAT) can also be performed upon the user's request and in his presence. 27-point measurement according to DIN 12880 can also be performed during the output control. To prove the sustained sterilization quality by the manufacturer (importer) in accordance with the declared device parameters, VENTICELL IL hot-air sterilizer users are provided with appropriate documents:
IQ - Installation Qualification
OQ - Operational Qualification
PQ - Performance Qualification (validation)
The testing and validations are performed by our accredited testing laboratory according to the standards.
Sterilization )is validated process used to render a product free from viable microorganisms. According to EN 285.
The sterilization effect in hot-air sterilizers is reached by the sterilized material heating to high temperatures (160—180°C).
Depyrogenation is a procedure reducing the number of bacterial endotoxins (pyrogens) by three orders at least by high temperature (250—300 °C) acting for a given period of time.
There are the following important parameters of the mentioned processes:
accurate profile thanks to a well-designed hot air flow system and perfect construction design of the sterilization chamber
quick temperature rise and cooling
compliance with the regulations on clean premises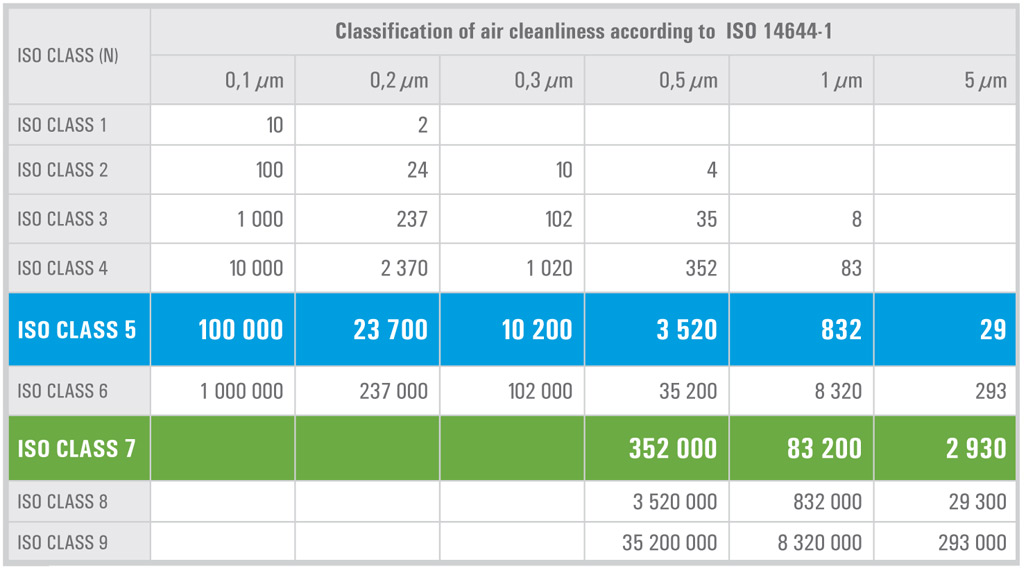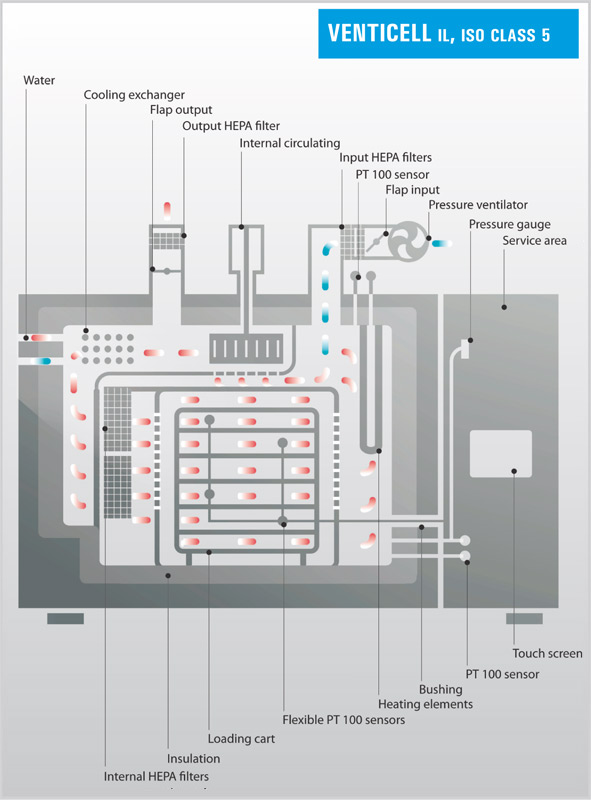 complies with regulations on clean rooms according to ISO 14644-1
external HEPA filters at the input and special internal HEPA filters for high temperature
sophisticated construction of the sterilization chamber
loading equipment
guarantee of compliance with ISO Class 5 in all the sterilization chamber zones
working temperature up to 300°C
various sterilization chamber volumes – see table
one-door and passthrough models
stainless steel fascia panels of the device with possibility of individual installation into a clean room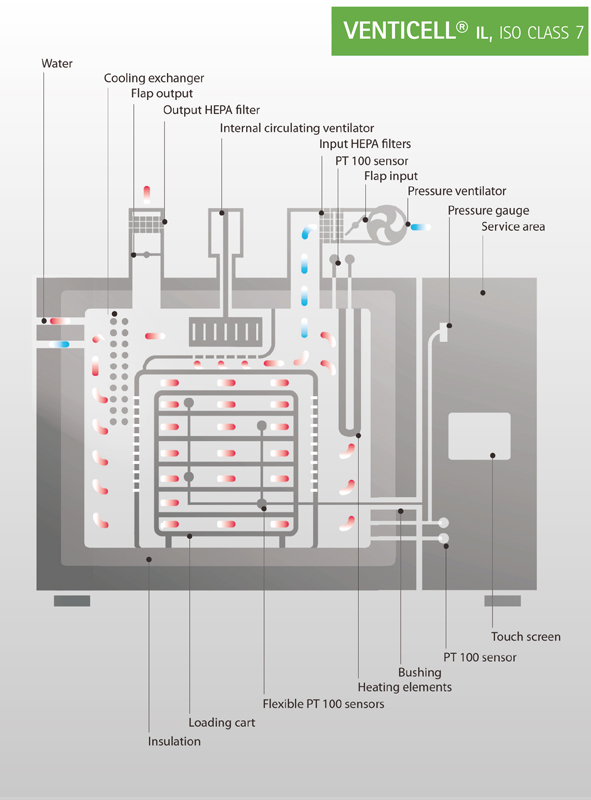 complies with regulations on clean rooms according to ISO 14644-1
external HEPA filters at the input
sophisticated construction of the sterilization chamber
loading equipment
guarantee of compliance with ISO Class 7 in all the sterilization chamber zones
working temperature up to 300°C
various sterilization chamber volumes – see table
one-door and passthrough models
stainless steel fascia panels of the device with possibility of individual installation into a clean room
robust structure, valuable inner space
stainless steel sterilization chamber DIN 1.4301 (AISI 304) or DIN 1.4404 (AISI 316L)
sectional stainless steel device frame for easy device installation
stainless steel outer jacket made of high-strength, chemically resistant, polished steel
AISI 304 for easy maintenance and long service life
removable inner stainless steel sheets for easy maintenance of the working chamber
well-organized and ergonomic control panels
easy intuitive control and service
semi-automatic controlled stainless steel door with mechanical opening
HEPA filters for the working chamber aeration
internal HEPA filters for high temperature
internal overpressure blower with sealed shaft
temperature sensors PT100 for accurate temperature keeping (4 pieces as a standard)
optional flexible PT 100 sensors
digital- or analogue-display pressure sensors for pressure measurement and regulation in the sterilization chamber and for ambient pressure comparison
"Emergency stop" function - under emergency conditions it allows for the device to come to a standstill
strengthened water cooling by means of a cooling exchanger inside the chamber
possibility of use of the transport and loading system in all device types
individual adjustment of service space
input and output flanges facilitating the device connection at the installation site
wide range of optional equipment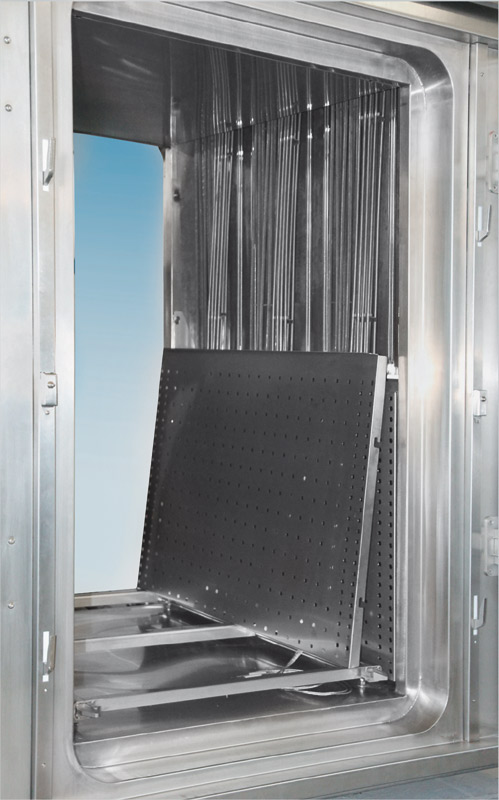 the sterilization chamber is made of chemically resistant stainless steel DIN 1.4301 (AISI 304) or DIN 1.4404 (AISI 316 L)
precise and tight sealing welds of the sterilization chamber, tested by capillary method during the manufacturing process
highly polished sterilization chamber surface minimizes particles deposition and makes cleaning easy
easily removable inner stainless steel sheets for easy maintenance of the operation chamber
sophisticated construction of the chamber and door to maximize the dilatation stability of the chamber during the working cycle, which eliminates the particles release and increases the temperature homogeneity in the sterilization chamber
high-quality, 15 cm thick Superwool insulation and third outer insulation jacket
dimension-optimised rectangular chamber ensures maximum volume usability for standardized containers placement
for the possibility of the device validation, the sterilization chamber is equipped with an access port with the diameter of 30 mm
double automatic door lock for maximal process safety
semi-automatic controlled stainless steel door with mechanical opening equipped with a two-stage hinge allowing easy door opening and reliable closing
welded door construction has a double, heat-resistant, silicone shaped sealing, fully eliminating any contact of the inner environment with the outer one during the work cycle
door sealing easy to replace
stainless steel electromotive door lock using significant door weight, ensuring reliable door closing
ergonomically positioned handles for easy door handling
emergency door opening allowed by independently supplied electromotors, or by manual drive in case of power supply failure
one- or passthrough models available
The activity is based on horizontal air flow through air ducts in the back and side device walls by means of a blower in an electrically heated chamber. Thus the spatial air temperature deviation and accurate temperature profile are ensured.
Sophisticated placement of the ventilation air ducts, heating elements, internal blower and adjustable air suction flap and discharge allow fast temperature rise and accurate cycle course in the sterilization chamber.
Forced air cooling by an overpressure blower during the final cycle phase ensures the resulting reduction of necessary working cycle duration (e.g. 320 bottles ROUXE 1000 ml, sterilization 250°C / 30 minutes, cooling by air to 90°C, cycle duration 4 – 6,3 hours depending on the flow intensity).
Temperature range up to 300°C allows the device use in the whole spectrum of industrial applications including the hot-air sterilization and depyrogenation.
Inner blower with frequency control using a frequency convertor for air flow optimization in the chamber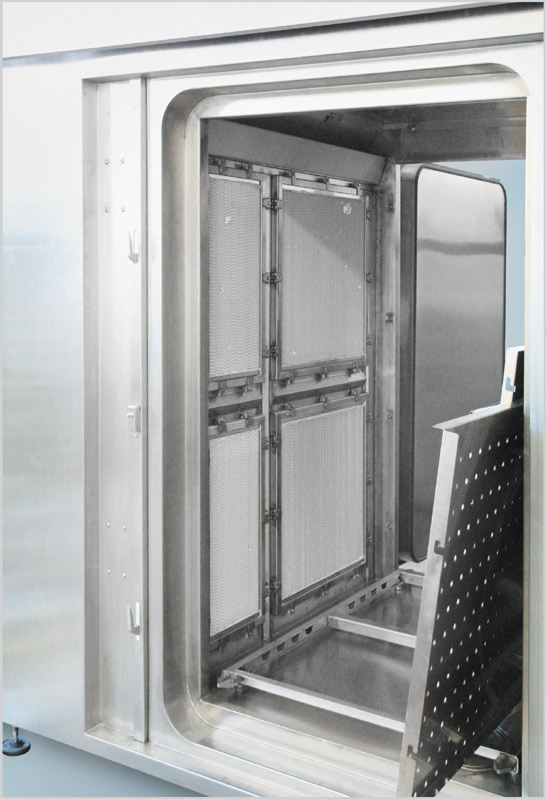 Thanks to special two-stage HEPA filters of class H 11 and H 14 placed at the air inlet into the device, the requirements of the standard EN 14644, ISO Class 5 and 7, have been met.
The use of thermally resistant internal HEPA filters H 13 and fluent air flow regulation allow arrangement of perfect continuous cleaning of the inner chamber, thus reducing the particles occurrence during all the cycle phases (only VENTICELL® IL, ISO Class 5), which means compliance with EN 14644, ISO Class 5.
The additional overpressure blower ensures overpressure in the chamber 0,45 - 1,5 mbar.
Door sealing and special sealing of the blower axis eliminates any contact with the outer atmosphere during and after the sterilization cycle.
The output device pipes can be equipped with additional H 13 filters.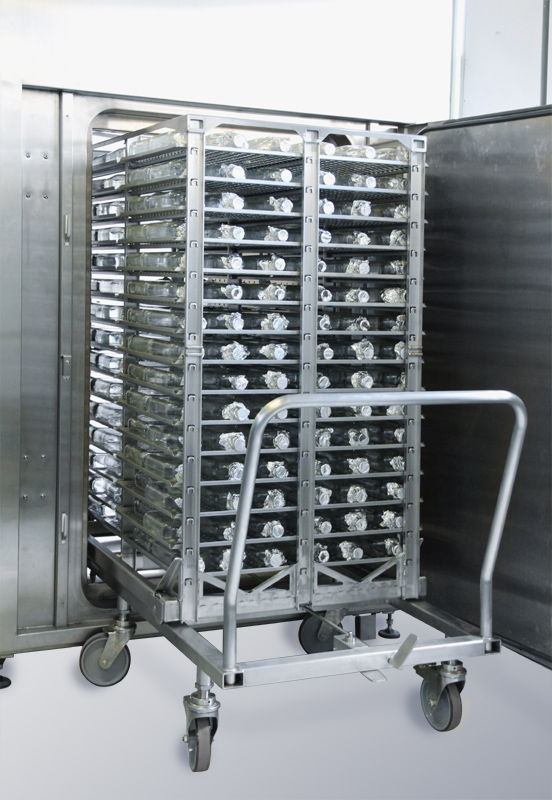 The sterilized material handling is facilitated by a loading system consisting of a transporting and loading cart. The transport cart construction has been designed to ensure a very stable load handling, even if it is quite heavy.
The loading cart with shelves of optimized size for standardized containers loading is equipped with wheels with special thermally resistant bearings, which guarantees the load placement into the device without any risk of particles release from the cart. The loading device construction allows continuous air flow in the chamber, thus contributing to the working cycle duration shortening and temperature homogeneity increase in the sterilization chamber.
Both the device production and the devices as such comply with the strictest ecological criteria. They do not burden the working and living environment. Multi-stage controlled cycle and continuous regulation of the revolutions rise and run-out prevent useless power surges in the customer's power supply mains.
The design of the device construction, e.g. an effective flow in the chamber, perfect and extremely thick outer insulation of the sterilization chamber by the rock wool, ventilator axis sealing, or settable suction an exhaust flaps not only optimize the cycle parameters, but also minimize energy consumption and protect the user's premises from uselessly radiated heat. The heat insulation keeps its perfect insulating properties even in high temperatures when it retains low temperature absorption. During operation, it does not release any smell or smoke emission because it contains neither binders, nor lubricants.
The device does not produce any harmful by-products. Ecological processing methods are used during its production. More than 90 % of the device and its pack are recyclable. The device contains neither any harmful substances nor heavy metals and complies with the directive on the restriction of the use of hazardous substances and wastes no. 2002/95/EC and 2002/96/EC.
high operational safety, doubled system of collection and evaluation of process information and its continuous comparing and evaluating
any deviation greater than the approved one causes an error message announcement
control by an industrial PLC system with own control software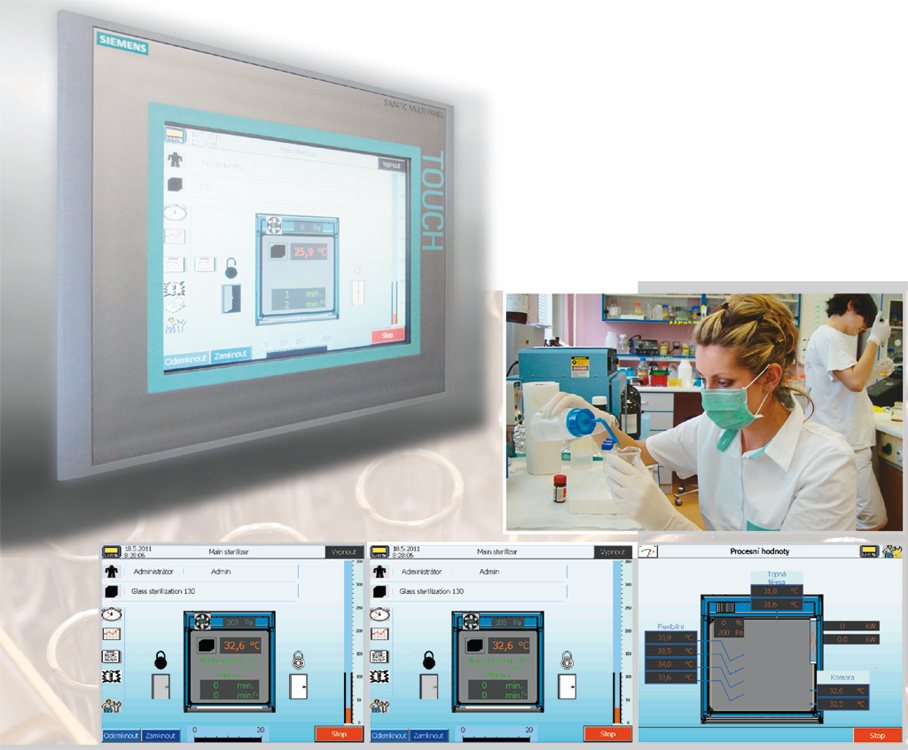 basic device functions on both device sides (in a two-door model) and extended user functions offered on the main panel
main comfortable color 12,1" touch panel ensures a clear and simple operation, diagnostics and service at the loading side
color 7" touch display on the unloading (clean) side (in a two-door model) informs also about the process state and allows the basic device control to the operator
visual and acoustic states and processes signaling (during the process, the display shows the process course and time till the working cycle end in both digital and analogue form) – optional accessory
visually and acoustically settable alarms and a number of individual configuration settings (ventilator, air flaps, communication language, print or data output, flexible PT 100 sensors control etc.) are a common part of the device
clock – indicator of the time remaining till the program end; real time indicator
after the cycle ends, the automatics confirms the correct course, offers a protocol print for the given cycle and allows the device door opening
the "delayed start" function allows the device switch-on in a pre-defined time without the operator's presence
the diagnostic section allows an easy service diagnostics and very quick service intervention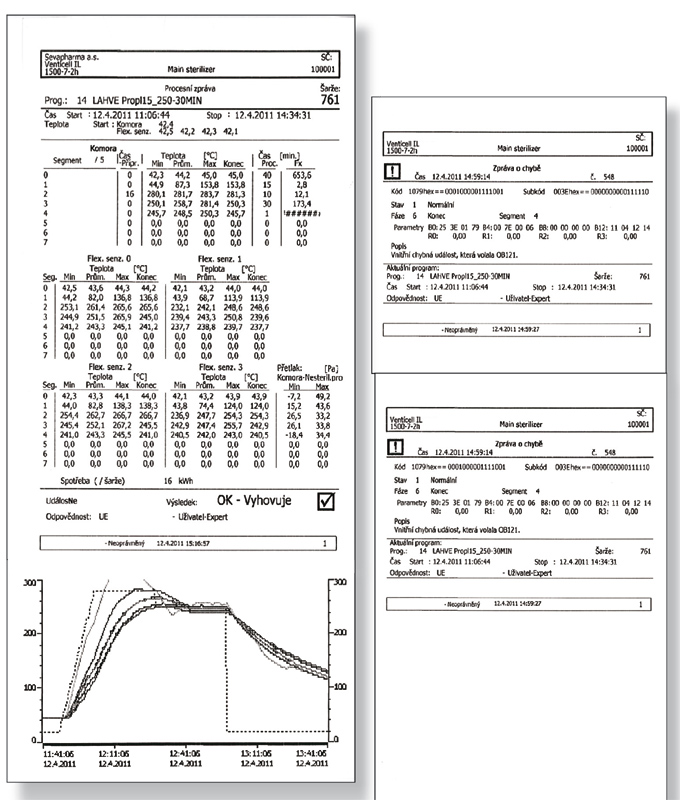 In addition to both the local and remote checking of the working processes, the working cycle documenting is required in certified operations. It is ensured by:
independent documentation allowing saving of several protocols in the panel memory
integrated thermal printer (optional equipment)
connection of PC (Ethernet) for data exchange or remote diagnostics and protocols saving in the computer memory by means of the Printer Archiv software (optional equipment)
WIFI module for wireless connection to the computer allowing actual data transfer
one-door or passthrough model
use of better-quality stainless steel 316 L
surface treatment Ra=0,4 µm
surface treatment "mirror polish" Ra=0,125 µm
water cooling – it increases the efficiency of work with the device and shortens the cooling duration up to a half
output HEPA filter including a special output neck
input/output HEPA filter assembled out of the clean room
transport and loading cart made of stainless steel AISI 304 or 316L, provided with special resistant wheels without particles release and high-temperature bearings, the loading cart is optimized for usual material container sizes, or it can be adjusted according to user's requirements
access port with diameter according to user's requirements
fluently adjustable output flap
additional validation access port
integrated thermal printer with 10-year guarantee of the printing permanence and print width of 113/104 mm
additional flexible temperature sensors PT 100
additional optional pressure sensors with digital or analogue displaying
flexible temperature sensor PT100 for the process control and check at the given point of the chamber
data outputs Wifi or USB for external data loggers and printers connection
special software WarmComm 4.0 for data saving and management in a PC
with 21 CRF part 11 and GAMP5 with outputs to the touch display or SW Warmcomm 4.0
air-tight model "Bio-Seal"
customized covering strips for device integration into pharma partition walls and ceilings
basic IQ, OQ, and PQ documentation for validation
FAT, SAT
The economical hot-air sterilizer variant VENTICELL®IL EASY complies with the requirements for installation in clean rooms as well. It complies with the requirements of EU Directives 2004/108/EC and 2006/95/EC. The device construction is based on the established and well-proved MMM heating technology devices (COMFORT line) intended for long-term use in hot-air sterilization and depyrogenation processes with the following necessary technical adjustments:
sealed chamber and door for installation in clean rooms
separated control panels on both device sides
power electronics separated from the basic device body
reinforced device door for lesser thermal dilatation and better sealing
levelling legs for stable installation
modified control SW for the temperature heating up time minimization
sealed exhaust extension and sealed access port for validation
varnished or stainless steel covering strips for device installation into the wall.
VENTICELL IL Easy
Volume: 55, 111, 222, 404, 707 litres
Working temperature: up to 250/300 °C
Interior: stainless steel, mat. No. 1.4301 (AISI 304)
Microprocessor control unit
6 programs
chip card system for individual program storage
RS 232 – interface for printer or PCcommunication
delayed heating start and stop function
acoustic and visual alarm of error state
time range 0–40 years with 1 min-intervals
digital safety thermostat
real time
programming temperature ramps
heating sequences
programme cycles
adjustable ventilation rate 10 to 100 %
manual control of the air exhaust flap
keyboard blocking
door opening control
Options VENTICELL IL Easy
door with window and interior lighting
access ports diam. 25, 50, 100 mm
door locking
left door versions (except for the 707 litres volume)
special software WarmComm 4.0
HEPA-filter (air filter integration)
potential-free contact for alarm messages
flexible PT100 sensor
passthrough version
operation temperature range extension up to 300 °C, only in combination with stainless steel shell of the device
stainless steel shell of the device
automatic door lock
contact for external flaps control
inner chamber design AISI 316 L for higher chemical resistance and strength