On January 25 – 28, another Arab Health Exhibition – a very important medical engineering exhibition, popular among exhibitors and visitors – was held in Dubai. The extent and importance of the exhibition increase year by year, and at the present time this is the second largest exhibition in the world, following Medica in Düsseldorf. Regardless current economic problems caused by low prices of oil on global markets, the region of Near and Middle East with its main markets in Saudi Arabia and United Arab Emirates continues its development and more investments have been planned even for the health care field. Serious character and importance of the event was proved by its official opening with participation of His Majesty Sheikh Mohammad Bin Rashid Al Maktoum, Vice President and Prime Minister of the United Arab Emirates and the Governor of Dubai.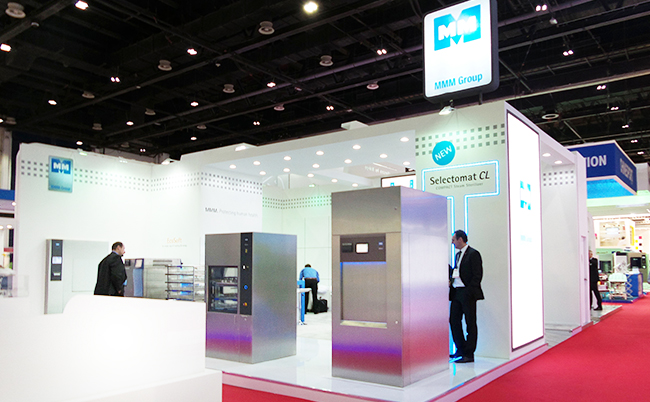 In the course of previous year, the MMM Group further consolidated its position in the area thanks to supplies of devices to Saudi Arabia and United Arab Emirates. The common stand of BMT and MMM prepared for its guests such exhibits, as a smart tool washer UNICLEAN PL II, steam sterilizers UNISTERI® HP 336-2 ED and a brand new compact steam sterilizer MMM Selectomat CL 669-2 ED, demo panel Selectomat SL and software work station for monitoring of work flow of tools in central sterilization department Ecosoft.

The stand brightened by a 3D projection of the central sterilization departments, allowing for the interested persons to get a better idea of material flows and everyday work at the work site after finishing the central sterilization department modernization. Mr. Benedikt Koller, son of the MMM Group owner, also participated in the exhibition in his new position of the head of the MMM GmbH Export Department and he immediately became a very active and useful member of the exhibition team.

Many our local business partners and clients visited our common stand again. Our clients from the Saudi Arabia arrived in really large numbers. Our local partner, the company Attieh Medico Co., which we co-operate with for over 15 years, became the most successful dealer of the year, just for the fourth time in the history. Mr. Ing. Milan Krajcar, Executive Manager of the company BMT and Mr. Benedikt Koller granted the 2015 award to Mr. Dr. Mohammed El Rass, Director of the company Attieh Medico. It is exactly him and the management of the department for steam sterilizers sales who arranges our common long-term significant success.

At the present time, the MMM Group is one of leading suppliers of sterilization equipment for the Saudi Ministry of Health Care and a strong group of private hospitals. Many of our perspective guests arrived from local emirates and from Oman, where our market share permanently increases thanks to our partner, the company Al Mazroui. Traditionally, there were also high numbers of visitors from India, Pakistan and Iran.

But there arrived also guests from Algeria, Syria, Egypt, Lebanon, Kuwait, Qatar and other countries. Compared to previous year, we were visited by much more business partners from African countries and even quality of those contacts can be assessed highly positively. It seems that in a very short period of 2-5 years, Africa may become a new and highly perspective territory with huge potential in the field of medical case modernization.

The Arab Health 2015 Exhibition again helped us to develop existing partner and personal relations, present our devices and services to a large group of clients and we also succeeded to obtain new and perspective contacts that will help us to further develop our business and service activities in that region in the forthcoming months and years.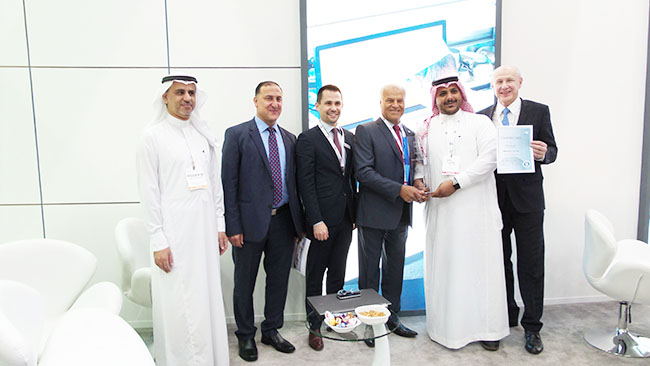 26. 02. 2016