analysis of the present and required condition
cooperation with the design office when drafting the technological arrangement, verification and check of the draft
washing, drying, sterilization
stainless steel furniture, accessories
supervision during the construction, check of readiness and preparation for assembly
supervision and complete preparation for assembly
assembly of devices and equipment, putting into operation in sense of valid standards
staff training, increased presence when starting-up the operation
complex contractual service
Basic technical data
Integral deliveries of devices and equipment for sub-sterilizations usually include:
several pieces of stainless steel furniture
ultrasonic washers and instrument washers incl. necessary collection of accessories
sterilizers (steam, chemical)
wrapping materials, materials for sterilization cycle check
Description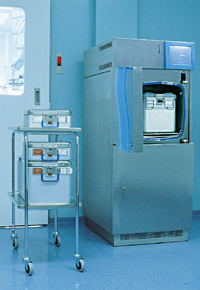 More and more customers look for models of flow and treatment of surgical instruments with price optimization. For various reasons there arises, beside the central sterilization department, the need and interest to sterilize instruments directly at the place of use. No matter what the reason is: large distance from the central sterilization department, necessity to secure an effective sterilization also during the weekend, the effort to eliminate the circulation of highly infected material in the hospital or the interest to use the limited amount of top-quality devices as much as possible during a day – the solution can always be – sub-sterilization department. Such a department, equipped only with the essential, but top-quality, facilities, is able to offer this service any time and effectively. Due to their small dimensions and easy assembly especially such devices are chosen for this purposes that can be placed under or on the work table, event. the ground plan of which occupies only small area or that can be built in a laboratory wall unit. Our most successful sterilizer in this field is the steam sterilizer UNISTERI. There were produced and sold more than 500 units of this sterilizer, especially in the CZ and EU countries. Knowledge and experience obtained when implementing and operating sub-sterilizations in the inland and abroad enable us to deal with all spatial and technical limitations of each individual project and to carry out the final verification of the proposed solution. Due to the close connection to our own development, production and service network we can meet all individual customers' wishes effectively and flexibly. The close and active cooperation with subcontractors enables us to offer You e.g. top-quality instrument washers with accessories or wrapping materials. Considering the character of the recommended devices, an event. cooperation with a building society and a check of building readiness as well as the possibility of delivery and assembly of made-to-measure furniture are no problem. Own transport, assembly of devices and putting them into operation in sense of valid standards are the almost final phases of the project implementation. Then there comes the finishing of the project, protocol training of staff, handing the work over and supervision when starting-up the daily operation. Our service staff is able, during the guarantee and post-guarantee period, to provide You with all activities necessary event. prescribed for the reliable operation. Our relationship with You does not end by handing over the device – on the contrary, it begins. Join the tens of satisfied users of sub-sterilization and small sterilization departments and convince Yourself of the range and quality of our services.