We secure the technical installation of Your new or older device. The installation place shall be prepared in accordance with the installation plan of the respective device.
Basic characteristic
check of building readiness
assembly and connecting to operating media distribution line
installation control
training of operating staff
handing over after installation
Basic technical data
Before the installation it is necessary to secure the so called building readiness – building of the respective room already finished, inclusive floor, ceiling, coatings, doors and windows built in. The room shall be clean, lockable, with the ambient temperature of 20 °C, media supply (water, steam, air and el. energy), drain, basements of the devices shall be made according to installation plans BMT Medical Technology s.r.o., finished, clean, operable.
Description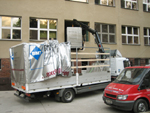 By checking the building readiness we verify the fulfillment of conditions specified for devices coupled with the building before starting their installation, and the accordance with the installation plan. After transporting the device to the place of its installation the functionality of operating means (media) and of the drain is verified, the device is fitted in place and connected to the media and drain. After its activation event. adjustment there comes the inspection and installation check whether the device has been delivered and installed properly and if there is no interference with other devices. Then the functionality and operation safety is verified. If everything is OK, there follows the introductory training of the operating staff and handing the device over after installation. We always make written record of the check of building readiness, installation check, stuff training and handing the device over after installation.