The 39th year of the international health trade fair ARAB HEALTH 2014 was held in the trade fair centre in Dubai on 27 – 30 January 2014. Together with the biggest European trade fair Medica, annually held in Germany in the mid of November, this is clearly the most important health exhibition in the world.

The companies MMM GmbH and BMT Medical Technology s.r.o. participate in this fair since 2008, having a common exposition in the very heart of the exhibition, in hall 3, in a stand with the area of 72 m2.

Before the start of the trade fair, there was held a meeting of distributors of MMM Group from the Near East and Maghreb areas (Arabian countries in north and west Africa) on Sunday 26 January, connected with a training for the new washing disinfector UNICLEAN PL II manufactured by MMM GmbH. Within this meeting there was also passed the award to the most successful representations of MMM Group in the world, located just in these territories. The BMT partner with the highest turnover in 2013 was – similarly to the previous year – the company ATTIEH MEDICO from Saudi Arabia.

Traditionally, the visit rate of our stand in trade fair days was very high. Mainly our partner from the Saudi Arabia succeeded to bring many potential visitors to our stand, travelling with him to the United Arab Emirates. Another important and numerous delegations in our stand were the representatives of the state and hospitals from Nigeria, where MMM Group performed the project of construction of a complete hospital in the town of Jola in recent years.

Trends in the field of steam sterilisation aim at offers of complete solutions for central sterilisations including systems of electronic documentation of processes, automatic systems of loading and unloading or systems with adjustable heights of carriages, remote service access, guaranteed prolonged service life of door sealing without necessity of lubrication or large-area control touch panels. Just now we have reserved the exhibition area for the jubilee 40th year of this important trade fair.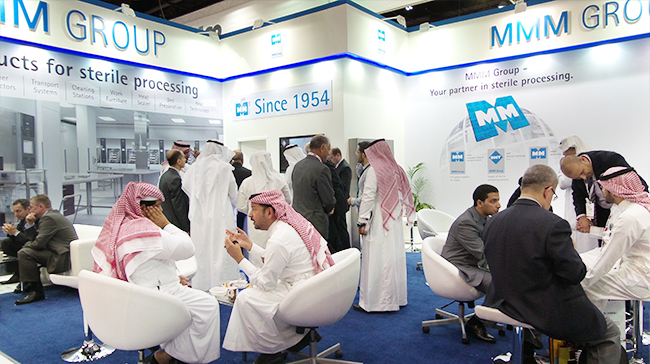 13. 02. 2014