The largest exhibition of medical engineering Zdravoohraneniye Fair 2014 in the Russian federation was traditionally held in Moscow on 8 – 12 December 2014. Regardless current complicated and financially instable situation in Russian markets it was not naturally possible for the stand of our successful daughter company BMT-MMM to miss in such an exhibition. Our dynamic team of BMT-MMM employees passed a very successful year and we were looking forward to the meeting with our current local dealers as well as to visits of new potential clients.

Our dealers have not let us down and so we were satisfied with the numbers of visitors as well as with quality of newly established contacts from the very beginning of the exhibition, i.e. from Monday morning up to Friday afternoon. We obtained new information on economic situation and projects in process in individual regions and it was a real pleasure for us to hear the commendatory words of our dealers to the address of our new young employees of BMT-MMM for their work efforts and flexibility in satisfaction of clients´ wishes.

At the beginning of the exhibition, Mr. JUDr. Jaroslav Kopeček, member of the Czech delegation and Chairman of the Association of Health Engineering Manufacturers in the Czech Republic, fetched along the new Ambassador of the Czech Republic in the Russian Federation, the first Czech cosmonaut and hero of the Soviet Union – Mr. Vladimír Remek. We informed Mr. Remek in detail about the MMM Group, BMT and about our history and current activities in Russian market. Our very interesting discussion took some 30 minutes and in the end we took a common photograph. Finally, the Ambassador wished us successful course of the exhibition and good luck in the forthcoming year 2015.

In the course of the Zdravoohraneniye Fair, we presented to professional public the instruments washer UNICLEAN SL M10-2, popular steam sterilizers STERIVAP 669 and UNISTERI HP 636 and table steam sterilizer STERIDENT. From the thermal engineering line we presented the hot-air sterilizer STERICELL 55.

We are really pleased to have a chance to meet brand new and prospective dealers and end users in our stand again, who visited us on the basis of recommendations from our satisfied current partners and clients. Nearly all the clients consider the year 2015 to be highly complicated and complex. But anyway, they do believe that we will succeed to realize some of the planned projects together. But it is possible to expect an increase of investment means for modernization of the health care system in the Russian Federation in 2016 at the earliest.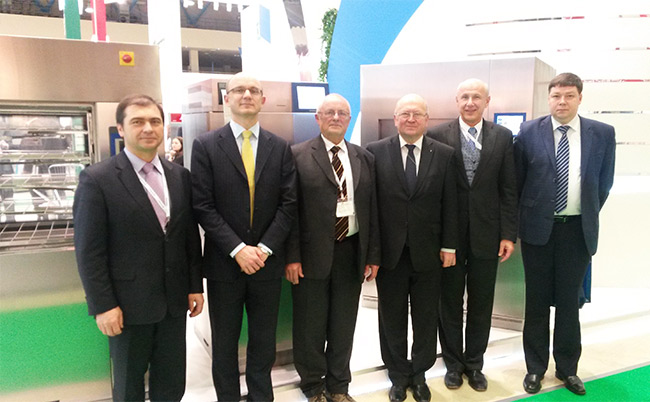 04. 02. 2015