After two years of construction works a new and modern pavilion of surgery branches was finished in Frýdek – Místek Hospital, established by the Moravian – Silesian region. The pavilion also includes the new Central Sterilization Unit, in realization of which we participated to a large extent. The festive opening ceremony was held on 3. 8. 2015 with participation of regional government representatives and other important guests. The construction costs of the new top-class medical institute reached nearly 460 million Czech crowns. 85% of the sum is covered from the means of the European Union, the remaining part was financed by the Moravian – Silesian region from its budget.

The new modern pavilion replaced the original building, removed due to poor static conditions in 2010. The patients moved to other buildings of the hospital. The construction of the surgery pavilion in Frýdek – Místek Hospital started in May 2013.

Three departments moved to the new five-floor pavilion with five surgery theatres: surgery – traumatology, orthopaedics and urology. The technical background is located in the underground part of the new five-floor pavilion.

The first floor houses ten out-patient wards of orthopaedics, urology, ARD and central emergency, connected by lift with the in-patient ward of intensive care unit and surgery theatres. The second floor houses the multi-speciality intensive care unit of surgery specialisations, including relevant background with the capacity of 11 beds and three endoscopic operating rooms. The third floor houses five top-level equipped operating rooms to be used by doctors of all surgical specialisations. The operating rooms are connected with modern central sterilization unit. The fourth and fifth floor is designed for inpatients wards. The fourth floor houses the surgery and traumatology inpatient ward with capacity of 56 beds, divided into surgical inpatient part and traumatological inpatient part. The fifth floor houses independent urological ward with the capacity of 19 beds and orthopaedic wards with the capacity of 21 beds. There is a heliport on the roof, in the height of 28 m.

The completely new Central Sterilization Unit is a specialised work site, arranging sterilization of tools and medical equipment for surgery theatres, all the departments of the Frýdek-Místek Hospital and medical institutions in the surroundings. Inter alia, the Central Sterilization Unit operates 3 steam sterilizers of the STERIVAP® HP line and 1 sterilizer UNISTERI® HP. There is also a newly established system of process documentation "DP 3.5 CZ" for monitoring of all and any equipment and also the software application "Medix" for monitoring the instruments circulation. Thanks to the above stated, the facilities became one of the most modern Central Sterilization Units in Czech market and undoubtedly, it will be an important reference for us for a long time.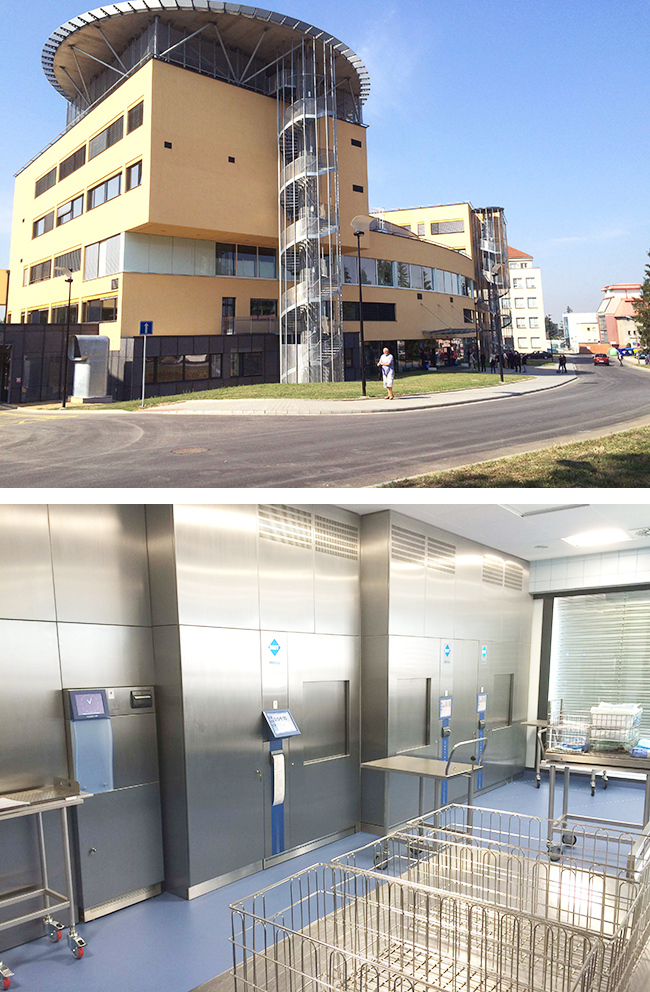 20. 08. 2015