Traditionally, the largest health care equipment exhibition SaudiHealthcare has been held in Riyadh this year. Regardless the fact that there is a really complicated economic situation, the country facing lack of financial means needed to hitherto highly ambitious plans of the country – including the health care – modernization, our local partner, the company Attieh Medico, decided to participate in the exhibition and undoubtedly it was the right resolution.

The population of the country is approximately 25 million. There is a high percentage of young people, families with as many as 10 children are not exceptional and that is related to necessity of health care development and modernization. Thanks to grand-scale plans, construction of dozens of hospitals started in previous years. But now, due to lack of financial means, the construction and equipment of many of them had to be stopped or interrupted. So it is no exception to visit a nearly finished, but fully abandoned hospital, looking like a ghost town, waiting for release of the last portion of financial means needed for finalization and putting into operation.

Unfortunately, this unpleasant fact affects even us and our otherwise highly successful presence in the Saudi Arabian markets. Thanks to our success reached in previous 15 years we are proud to state that we rank among the local market leaders. We have already equipped more than 200 hospitals, including those in well-known cities like Mecca, Medina, Djida, Dammam or Riyadh the capital.

Regardless the negative situation in Saudi Arabian market and outdoor temperature around 40 °C, the exhibition was visited by high numbers of visitors and – according to our local dealer´s statement – there were many concrete visitors among them interested in our steam sterilizers and instrument washers. We presented the new MMM UNICLEAN PL II washer in our stand, which proved to be interesting for all thanks to its modern and attractive design. Our advantage was the fact that our main competitor, the Swedish company Getinge, did not participate in the exhibition. Except us, it was only the company Miele that presented real devices in its stand – it was the steam sterilizer and instruments washer and the Korean company Human Meditech, presenting their low-temperature sterilizer.

Within the scope of the exhibition we also met a potential partner for the field of laboratories and pharmaceutical industry, declaring interest in our driers, incubators and steam sterilizers. This market section is not much developed in the country yet, but the first interesting and perspective projects are being offered.

According to opinion of majority of guests, the financial situation will gradually improve in the forthcoming months and in the autumn – after the end of Ramadan and this year´s Mecca pilgrimage – it is possible to suppose significant increase of supplies to hospitals in the Saudi Arabia and gradual finalization of all and any partially processed projects.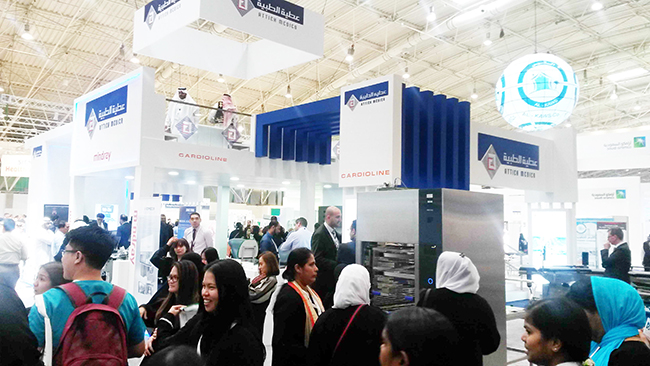 22. 07. 2016