The International Congress for Central Sterilization took place in Nové Město na Moravě for the seventeenth time, this year on April 26-27, 2023. Over two hundred experts not only from the Czech Republic, but also from Slovakia, visited the SKI Hotel in Nové Město, which was the host of the International Congress for Central Sterilization. The two-day event, full of lecture blocks, took place again under the management of the Hospital in Nové Město after a four-year break.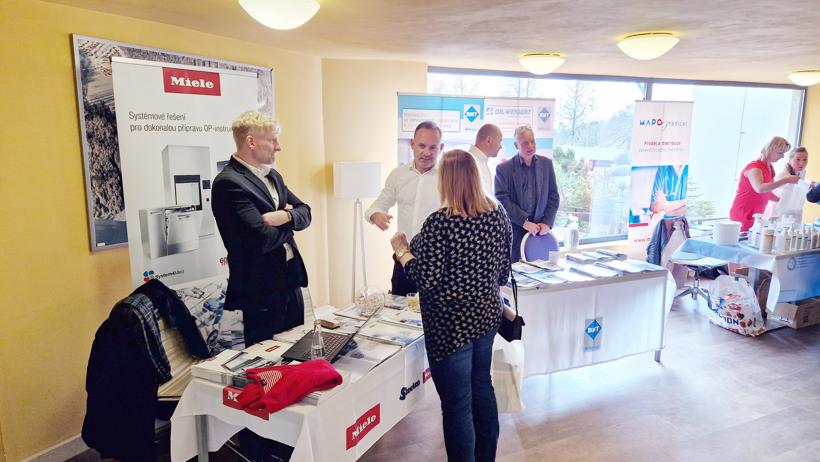 "The Congress is of great importance to us. Meeting people from the sterilization industry is often very difficult. However, this event is already traditional, just like the congress in Brno. We are happy that we are succeeding in establishing work, personal and social contacts", said Bruno Šudřich, chairman of the Czech Society for Sterilization, under whose auspices the event was held, at the opening. Together with the Czech Society for Sterilization, the Region of Vysočina took over the patronage of the event. Deputy Chief Executive of the Region Vladimír Novotný reminded those present of the recent pandemic, which brought enormous pressure on the healthcare sector. Some other contributions by invited guests were also in the spirit of this topic. In the opening speech, the director of the Hospital in Nové Město, Věra Palečková, confirmed to everyone present that the construction activities in the Hospital in Nové Město did not stop even during the covid era, and that the hospital is still being modernized thanks to the support of the Vysočina Region.
In the past, central sterilization was in the basement of the hospital and in cramped conditions. In 1999, a new sterilization and operating room pavilion was opened. It was the premises of the central sterilization that were made available and introduced to those interested within the congress. In 2018, the workplace was again modernized and the equipment changed, again with our sterilizers. According to statement of Irena Svobodová, Head of Central Sterilization of the Hospital in Nové Město na Moravě, around 135,000 objects are sterilized annually at the central sterilization.
In addition to the Hospital in Nové Město, interested parties could also visit the premises of the Medin company, which develops, manufactures and distributes medical instruments and implants. In addition to information related to the covid pandemic, the lecturers focused on legislative changes, new methods of disinfection and sterilization procedures or hygiene requirements. A shared presentation from Bogota, Colombia with Dr. Schwanhaeuser was also successful, which made us really very happy. It was a comparison of a doctor versus a patient and a comparison of the healthcare system in Colombia and the Czech Republic.
Traditionally, an alliance group of Czech companies and – to a significant extent – also BMT took part in this professional event. Thanks to Ing. Lenka Žďárská, who presented a lecture with the topic of "Legislative Changes in the Field of Sterilization."
24. 05. 2023