TOP 100 Innovator-Awards prize-giving ceremony was held in Essen on 27.06.2014. The company MMM was awarded a prize in category C – medium enterprise with more than 250 employees for its innovation performance – the quality seal TOP 100.


TOP 100: Network of Mid-Size Innovation Elite
Together with mentor Ranga Yogeshwar, TOP 100 denotes the most innovative companies of German mid-size businesses. Prof. Franke from the University of Economy in Vienna is responsible for scientific management of the project. Within the scope of benchmarking study he compares all the participating enterprises and processes a list of 100 most innovative companies in three size orders. In his comparisons, he aims at innovation management. The mentor Ranga Yogeshwar within the scope of the German Summit of Mid-Size Enterprises awards the TOP 100 only to the best ones and these are allowed to use the quality seal. The members of the jury are e.g. Prof. Dr. Roland Berger, Hubertus Bessau, Dr. Michael Brandkamp, Prof. Dr. Hans-Jörg Bullinger, Edelgard Bulmahn and other 20 experts in the field of economy and science. Those who want to know more about the TOP 100 competition and its jury can find information at www.top100.de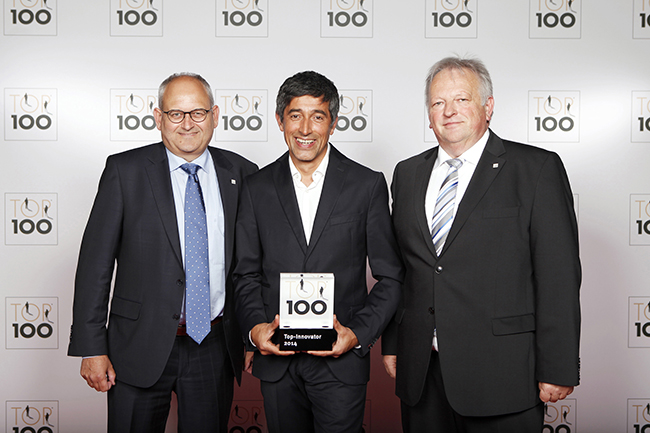 Press Release on TOP 100 for MMM:
The company MMM Münchener Medizin. Mechanik GmbH that was awarded the "Top 100" prize will hold your interest by first-class innovation marketing. Client workshops are held several times a year, providing many ideas for products and services for the future. Then, sales and marketing process concrete drafts of innovations, re-checked at technical meetings for their feasibility. In this way, the global provider of sterile materials processing systems provided many innovation products for the global health-care markets. For better understanding of work procedures and processes, the employees of the top innovator work at clients at the initial stage of their employment and they develop new ideas based on that. In total, more than 1.000 employees work in 15 plants of the health-care equipment manufacturer all over the world, 490 of them in Germany. The employees present approximately 500 innovation suggestions per year, mainly in the field of production process innovation; the enterprise realises approximately two thirds of them. But even the ideas of innovative products and their characteristics are based on everyday work of our employees. The company MMM Münchener Medizin Mechanik as the manufacturer and provider of complete systems for sterile material processing constructs cleaning and disinfection devices by itself for approximately one year. "In this way, we are able to manage challenges of our clients even better", explains Robert Eibl, the Executive Manager. The success in the "Top 100" competition is something really exceptional for him: "Our company perceives the 'Top 100' seal as an award for our joint efforts. But to be innovative means also not to give off. And that is why we celebrate today – but tomorrow, we will continue to work on development of new ideas."


21. 08. 2014