Traditionally, the largest exhibition of medical engineering in the Russian Federation – Zdravookhranenie 2016 – was held in Moscow on 5 – 9 December. Even though the situation in Russian market sis highly complicated at the present time, we decided to continue our annual participation. Even this year, our stand was placed in the prestigious hall 2.2, traditionally housing the stands of leading global and German manufacturers of medical engineering and in continuation of the Medica exhibition in Düsseldorf we selected similar design of our stand so as to increase and support the unified image of the MMM Group.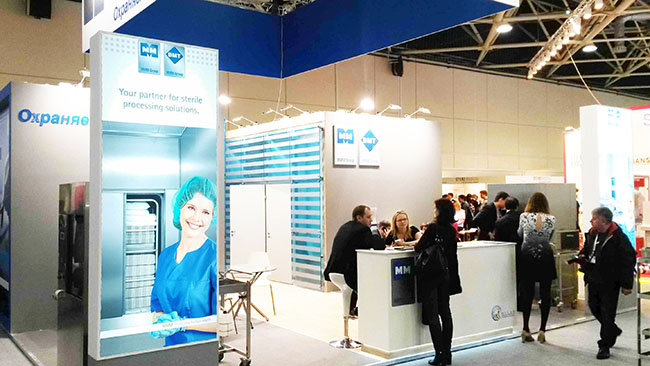 In consideration of really complicated and instable situation in Russian market, this year exhibition was significantly smaller than the exhibition in the last year and our original exhibition hall – originally designed by the exhibition organizers mainly for sterilization and similar fields – was completely closed.

Thanks to excellent location of our stand directly at the entry to the main hall, our leading position in Russian market (we were the most successful foreigner supplier of sterilization in Russian market last year) and high number of local dealers, there were many interesting guests in our stand from the morning up to the evening. The guests arrived from all the parts of Russia, including Siberia and Far East, but they also arrived from Kazakhstan, Byelorussia and the Baltic republics.

Even though there were problems with projects financing and sharp competition with other suppliers, we finally succeeded to win many tenders after fierce fighting with competitors in the course of the year. Compared with the previous year the turnover is even higher, regardless the situation when budget for health care must have been decreased in Russia due to lack of financial means in the course of the year. The more it is necessary to appreciate the efforts of our complete team operating in Moscow, Sankt Petersburg, Stavropol and Novosibirsk, as well as our long-term and loyal business partners with their seats in the whole territory of Russia, for reaching such great results.

In the course of the Zdravookhranenie exhibition we introduced the instruments washer UNICLEAN SL M10-2, which was interesting for many of our clients. We have already obtained all and any certificates and approvals so as to start the sales in 2017. We also introduced steam sterilizer STERIVAP® HP IL 636-2 ED to our clients for the first time – it is designed for hospital pharmacies or for sterilization of contaminated hospital waste, which is a frequently discussed topic in Russia in these days. The exhibits in the stand were completed with the table steam sterilizer STERIDENT® and hot-air sterilizer STERICELL® 55.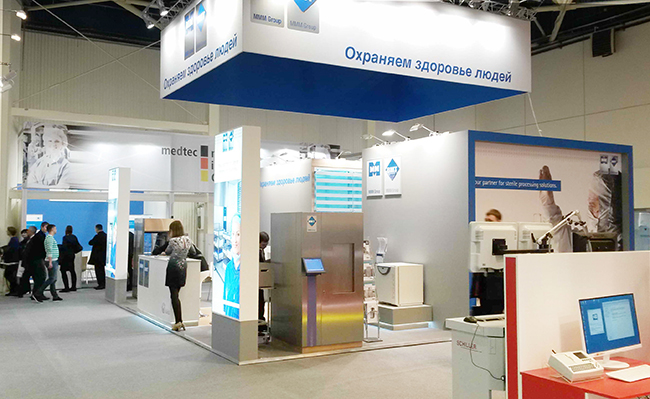 24. 01. 2017